Print Topic
In order to customize the website so that your search results are not too large to be useful, defaults can be created. The My Profile page gives you the opportunity to set certain preferences for your account. Your defaults for both regular searching and easy searching can be set so that you can search by the method you use most frequently.
Log into Mackin.com and choose My Mackin > My Profile. Search parameters can be set to your particular specifications. You may change your profile settings at any time.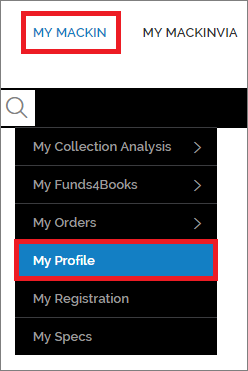 Decide whether to include foreign language, OP (Out of Print), PRD (Publisher Restricts Distribution), and NYP (Not Yet Published) titles
Adjust interest level and publication year. (NOTE: Some titles are not assigned an interest level. If you limit your searches to specific interest levels, several appropriate choices may be excluded from your search results.)
Decide whether to apply preferences to Easy Search
Display 15, 30, or 50 items per page
Include a tax rate
You may assign letter A, B, C, or D to be your priority default
Set a Preferred Format Order so all search results will be filtered by binding/format before they are displayed
Choose which fields you would like as default settings for searching (e.g. Title Begins With, Title Contains, etc.) Your default for both regular searching and Easy Search can be chosen.
Establish parameters for multiple school ordering
Please be sure to click on

 after you make your selections.
NOTE: Please be aware that the Search Page Preferences you select on the My Profile page may cause future searches to come back with "No Results" when in fact the title is in the Mackin database (e.g. if you have your interest level set at K-2, the Harry Potter series will not come up when you search). If you can't find the title you're looking for, please alter your Search Page Preferences to be less specific and see if the title is retrieved.