Print Topic
Librarians/media specialists, teachers, principals, district administrators, and PTA/O leaders can sign up for MackinFunds. Popular times for holding campaigns include conferences, holidays, and back-to-school or end-of-year events. Please seek the proper approval before signing up to participate.
To get started, log into Mackin.com and go to My Account > MackinFunds > Campaigns.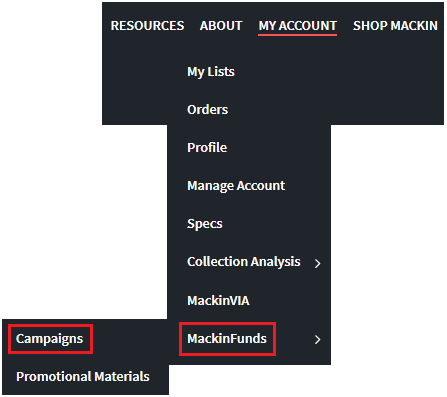 To skip to a subsection of this topic, choose from the links below.
Start New Campaign
Custom Wishlist
View Campaigns
Edit Campaign Details
Design Webpage
View Donations
Place MackinFunds Order
---
Start New Campaign
To start a new campaign, click the Start New Campaign button.

Fill out the required information and select the Submit Request button. You will receive an email when your campaign has been approved. Please Note: We ask for a minimum 2-week notice to set up your campaign, but can be flexible. Please add a requested date to the Questions/Comments section if an alternate date is needed.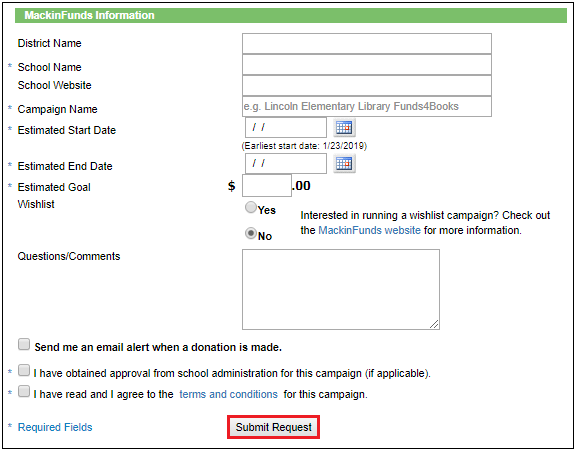 ---
Custom Wishlist
If you have a list of titles that your library needs, you can add it to your webpage so your donors can donate books to your library. Our Custom Wishlist feature allows you to collect book donations in addition to monetary donations, enhancing the experience your donors have supporting your library.
To add a wishlist, click "Yes" next to Wishlist on the Fundraiser Signup form and your MackinFunds Coordinator will add one to your Mackin.com account. You will then have the ability to add titles to the list for your donors to view and select. Once your campaign has closed, your MackinFunds Coordinator will send you a list of titles selected by your donors. Please Note: The final decision regarding titles will be up to the librarian/media specialist or other school official.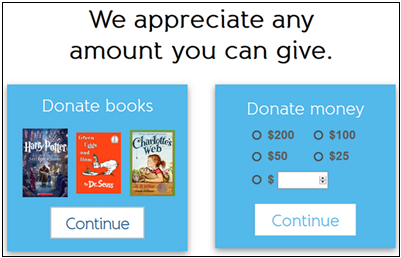 ---
View Campaigns
All of your MackinFunds campaigns, along with their status and other pertinent details, will be listed on the My Campaigns page.

---
Edit Campaign Details
To edit campaign information, click the Edit Campaign button.

You can edit basic information about your campaign, such as the name and goal amount, or you can request changes to the start/end dates.

---
Design Webpage
To personalize your MackinFunds webpage, click the Design Webpage button.

You can select the colors and styles, upload photos, and add messages to your donors. When you are satisfied with your webpage, use the Request Activation button to notify your MackinFunds Coordinator. This webpage will then be available to clone on future campaigns using the Clone Previous Campaign button.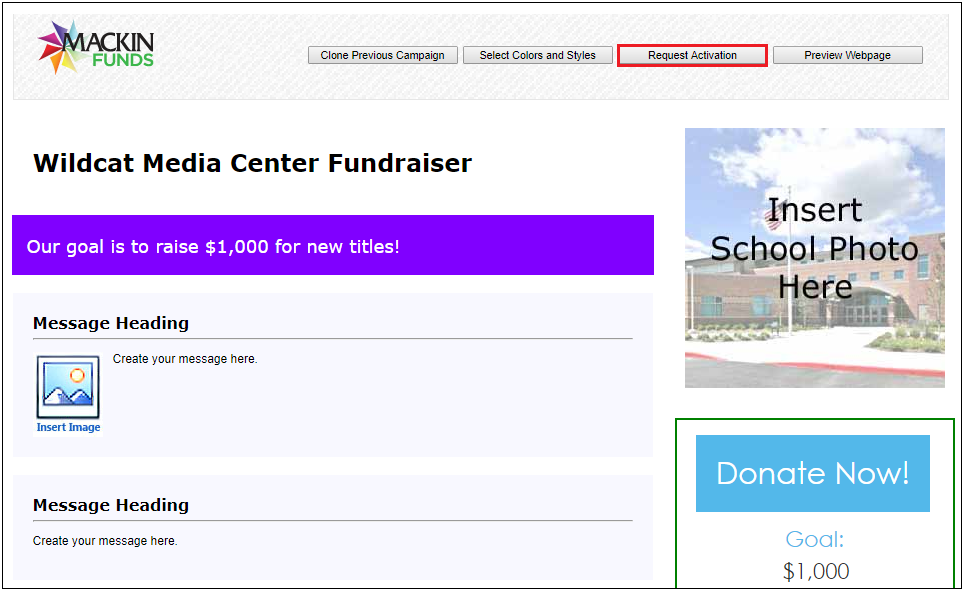 ---
View Donations
To view your donations, click the Donor Log button.

You can view the list of donors, including the donation and contact information.

Additionally, you can export this information to Microsoft Excel, including any messages left by donors, by going to Options > Export Donor List.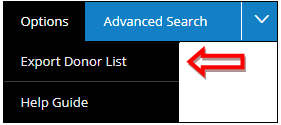 ---
Place MackinFunds Order
Before you place your MackinFunds order, you will need to create a list of items to purchase. We recommend over-ordering by 20% and prioritizing titles to make sure we use all of your funding dollars.
To place your order online, go to My Account > Lists and click the Order Now button next to the name of your fundraiser list.

You will be prompted to complete your transaction using our online ordering process. Follow these steps to place the order except choose Fundraiser Donations as the Payment Method and enter the Fundraiser Code.

Lastly, fax or email a copy of your school's tax-exempt certificate to your MackinFunds Coordinator if applicable. Please be sure to remove any MackinFunds links from your school or library website since the campaign will no longer be active.