Print Topic
If you would like orders cataloged and processed, we need your specifications on file at Mackin. They can be faxed, mailed, completed online, emailed or given to a customer service representative over the phone.
To complete your specifications online, go to our Cataloging and Processing form. You can find a link to this form on our Processing and Cataloging webpage.
From the Home page, select Services & Products > Library Services > Processing & Cataloging.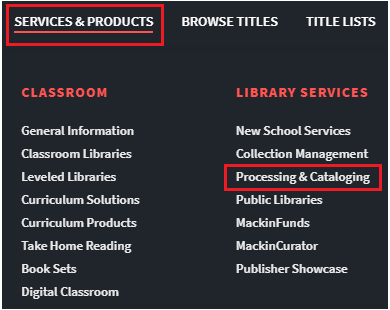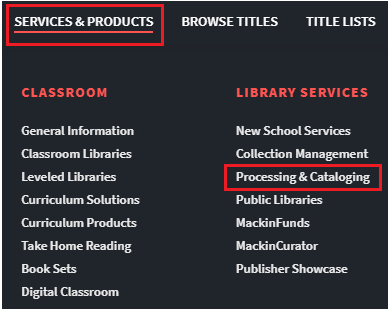 Click on the link to the online form.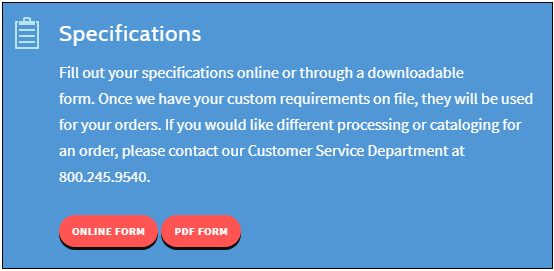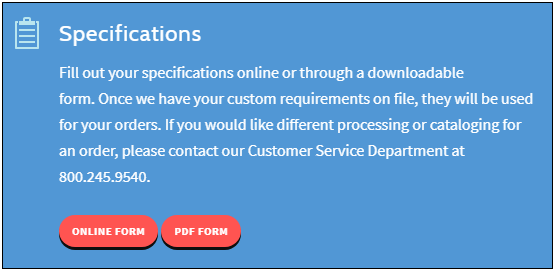 Once specifications are sent to us, they will be used to process all orders unless we are instructed otherwise. Changes can be made to specifications on file by letting us know what you would like to change/add. We will then make adjustments to your account. If you would like different processing or cataloging for an order, please contact our Customer Service Department at 800.245.9540 or customerservice@mackin.com.
To fill out a paper copy and mail or fax it back to Mackin, click on our downloadable PDF file. Once we have your custom requirements on file, they will be used for your orders.