Submitting an order on Mackin.com is the quickest and easiest way to purchase your new library materials!
To submit an order, first, log into your Mackin.com account and create/open a List.
Then, go to the Shopping Cart and click the Order Now button.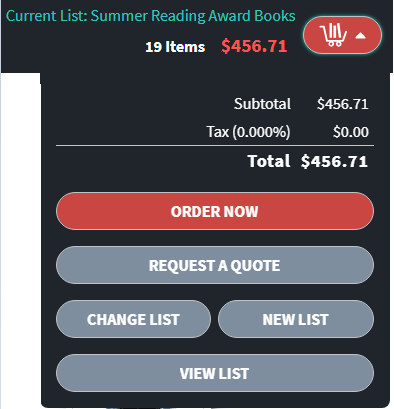 This will open Mackin's Order Wizard, where you will complete your order in five easy steps: Order Info, Shipping/Billing, Payment, Review, and Order Complete.


Order Info: Enter the basic information for your order, including the dollar limit, tax rate, and coupon codes. Mackin will also request a description of your order.Click Shipping/Billing to continue.
Shipping/Billing: In this section, enter your organization's shipping and billing information.Select the +, Edit, or Delete buttons to add, change, or remove a billing address from Mackin.com

Click Payment to continue.
Payment: Select the correct payment method for the order: Purchase Order (PO), Credit Card, Invoice, Fundraising Donations, or Other.Ordering by Purchase Order: Mackin does not require a Purchase Order. However, if one is not provided, we will need the billing and shipping address to process the order. If you indicate that a PO is coming, we will not ship materials until the PO is received.

Ordering by Credit Card: if you are paying by Credit Card, your card will be charged at the time of each shipment.Click Review to continue.
Review: Review your order, including the Payment Method, Order Description, Shipping Address, and Billing Address.Click Submit to complete the order.
Order Complete: Your order has been submitted! Mackin will also send you an email confirmation of your order.If you have any questions regarding a recent order, please contact Customer Services 1-800-245-9540or email at customerservice@mackin.com.