Print Topic
Dup Check examines one list for exact matches or items that share the same Title, Author, Added Entry, and Series Title.
---
You must be viewing the list that you want Dup Check to scan for duplicates. On that List Detail page, go to Options > Dup Check.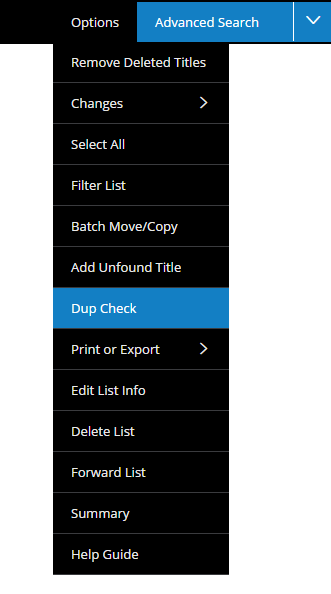 This will take you to the List Duplicates page. If there are any matches, uncheck the items you don't want. NOTE: You will need to delete the deselected items to remove them permanently from your list. See Add or Delete Titles for more information.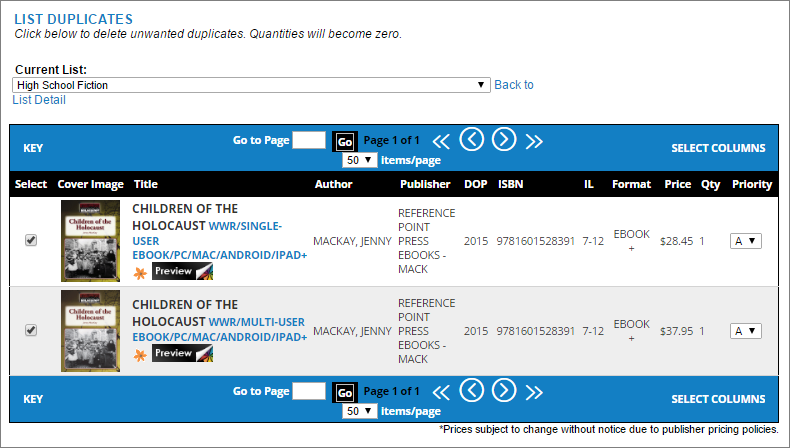 You may also choose to delete exact duplicates (for example, two paperback copies of Frankenstein published by the same publisher in the same year). Go to Options > Delete Exact Duplicates. Make sure you are on Dup Check's List Duplicates page to see this option on the dropdown Options menu. If you would like to add more than one copy of Frankenstein (published by the same publisher in the same year), instead of having two copies listed, you can change the quantity of Frankenstein to reflect how many copies you want. (See Adjust Quantity of Items)