Adding Titles to a List
From the Search Results page, or full record of a title, clicking the box next to the Add to List immediately adds the title to your current list.

Make sure you are saving the title to the list you want. Your current list is displayed near the Shopping Cart.  To move to a different list, make click on the Shopping Cart, and then Change List.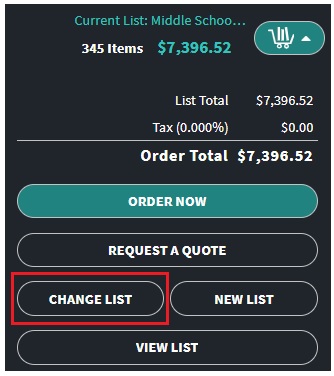 Once an item is selected, you can adjust the quantity. Click Enter or Return on your keyboard to save the change.  Your list totals are automatically updated.
---
Deleting Titles from a List
Deselect the title by unchecking the box next to the Qty box, or changing the quantity to zero.  Please note:  Deselected titles will be displayed on your list as unchecked (in case you change your mind and choose to reselect them); however, these titles won't print or appear on your order.
You can permanently delete an individual title from your list by clicking on Remove.

If you would like to remove all your deselected titles permanently, go to the list details and choose Remove Deselected Titles from the Options menu. Make sure you are viewing the list for which you want to remove deselected titles.