Print Topic
Add Resources Manually
As a MackinVIA Administrator, you can add resources, such as educational links, videos, or existing digital content, to your school's account using the resource URLs.
To add a new resource, first log into your MackinVIA Administrator account (https://www.mackinvia.com/Admin) with your Mackin.com email address and password.
Go to Resources > Add New Resource (make sure to select the correct VIA if you have administrator rights to more than one account).

Click the Add Resource Manually button.

Enter the pertinent information about the new resource, including title, author, and resource URL, and click Save Changes. Please Note: You must have an accurate URL or your users will not be able to access the resource. Additionally, the URL must start with either http:// or https://.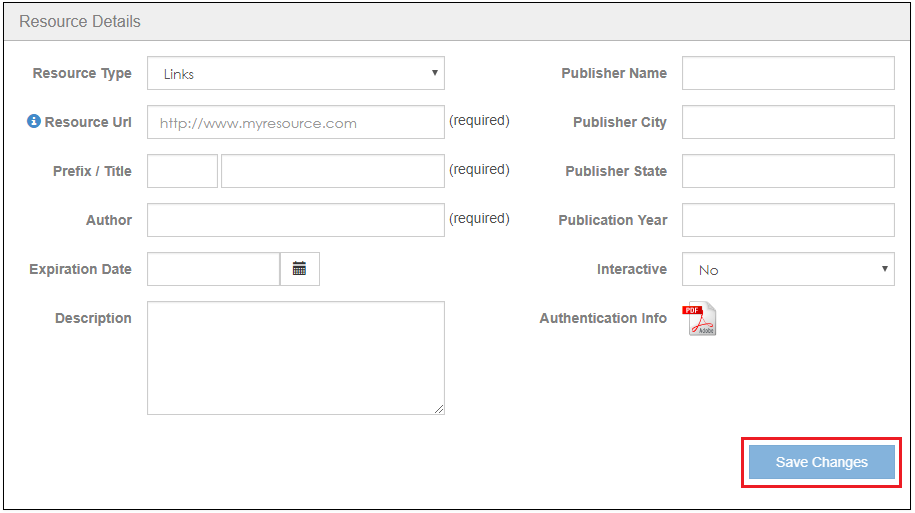 If you are adding a link or video, a Fetch Data button will appear after entering the URL. Click this button to initiate a metadata scan of the resource's website. Our system will search for relevant information and fill in the fields automatically.

After you click Save Changes, additional options will appear. Select the other tabs to provide more details about the resource:
Additional Details – Co-authors, Series, Languages
Index Terms – Subjects, Topics/Genres, Additional Keywords
Classification – Fiction/Nonfiction, Categories, Groups
Reading Information – Interest Grade Level, Reading Grade Level, Lexile Code, Lexile Level, Fountas & Pinnell
Quiz Information – Accelerated Reader Quiz Number, Reading Counts Quiz Number, Guided Reading
Resource Image
Related Links
The more information you enter, the easier it will be for your users to search for and discover the resource in MackinVIA.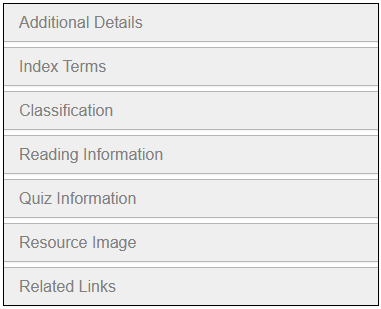 When you are finished, locate and click the Inactive button. The button will change to Active, and the resource will now be available to your users.