To skip to a subsection of this topic, choose from the links below.
About Circulation
Cancel a Checkout, Request, or Hold
Cancellation Notification
---
About Circulation
As a MackinVIA Administrator, you can view a list of current checkouts, online reads, assignments, requests, and holds. From the Circulation page, you can:
View and search all titles currently circulating
See totals for different types of circulation
Filter circulations by type
Identify users with current circulation activity
View a user's position in the request queue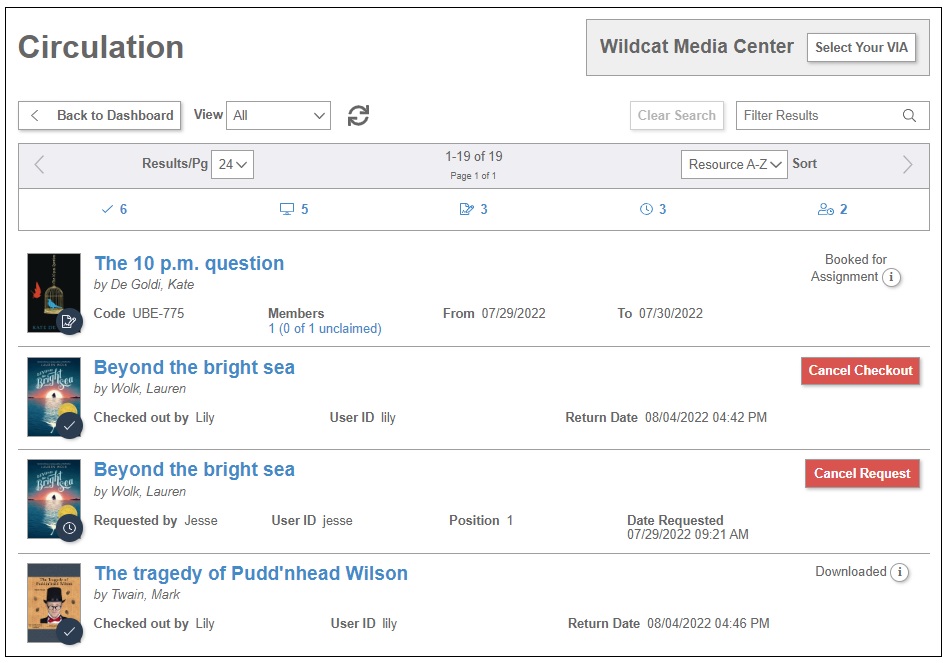 ---
Cancel a Checkout, Request, or Hold
As a MackinVIA Administrator, you can cancel a checkout, request, or hold if a resource is needed immediately.
First, log into your MackinVIA Administrator account (https://www.mackinvia.com/Admin) with your Mackin.com email address and password.
Click on the desired circulation type from the five options (make sure to select the correct VIA if there is more than one account).

Select the circulation type from the dropdown menu or click on the desired header.

Locate the resource to be canceled and click Cancel Checkout, Cancel Request, or Cancel Hold.

After a resource has been canceled, a notification will be sent to the user detailing the action taken, date, title, and author.
Please Note: Downloaded resources and online reads cannot be canceled. Downloaded resources need to be returned to the cloud in order for the cancel button to become available. Online reads are temporary and will terminate once the resource is closed.

Additionally, an assigned resource cannot be canceled from the Circulation page. However, a member of an assignment can be manually removed if needed. This will free up a copy of the title to be redeemed by another student.

---
Cancellation Notification
If a checkout, request or hold is canceled, an email will be sent to the user. It identifies the action taken, date, title and author. It does not identify who took the action.
---