To skip to a subsection of this topic, choose from the links below.
About Playaway
Battery
Copies of Content
Lanyard
Sound Quality
Playaway Versus
Size and Playing Time
Troubleshooting
---
About Playaway
An all-in-one product, Playaway is a highly portable, easy-to-use player that comes with an entire audiobook already on it. Our catalog of over 20,000 titles is ideal for all ages and constantly expanding.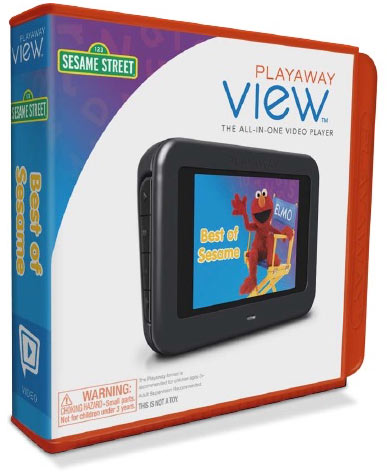 For more information about our Playaways, go to https://home.mackin.com/digital/audiobooks/playaway/.
Playaway products can be found by entering Playaway in the search bar on mackin.com.

From there, click the top button labeled Playaway View or scroll down to Playaway section.
---
Battery
Change Battery
Locate the Playaway battery door at the wide base of the player (the door is covered with the small title label on the wide base). Then, use your thumb, coin or a screwdriver to push the door away from the player so it snaps off. Some battery covers may be harder to remove than others, so you may have to use a bit of force or a tool to help it off. Once you have the battery door off, remove the old battery and replace with a fully charged battery. Lastly, snap the cover back into place.
Battery Life Icon
The Playaway LCD has a small battery icon that is displayed on the screen. There are three levels of battery life reflected in the icon. When one bar is left in the battery icon, you have 20% power left.
Battery Longevity
Every Playaway comes pre-loaded with a standard Energizer AAA battery that will provide an average of 20 hours of playtime. The majority of titles will only require one battery to listen to the entire title.
---
Copies of Content
In order to protect the copyrighted works of authors and publishers as traditional books do, you are unable to make copies of Playaway content, nor can you add, delete or transfer content on or from a Playaway.
---
Lanyard
Playaways shipped after August 2007 will have an indentation at the top of the player. To attach the lanyard, simple thread and loop the lanyard into the indentation. You can now wear it around your neck or use it as a shoulder strap.
---
Sound Quality
Playaway audio is of equal or greater quality to Audio CD's & digital downloads that are available today.
---
Playaway Versus
Digital Downloads
Playaway comes pre-loaded with great digital content, so it does not require information transfer fees, subscriptions, memberships, or even an Internet connection. Just plug-in your headphones and listen wherever you go.
CDs, MP3s, and Cassettes
Playaway comes ready-to-listen, without the need for a certain type of player or advanced technical know-how. Additionally, Playaway allows the listener to control the speed of the narrator's voice and automatically remembers where you left off when you power down.
---
Size and Playing Time of Playaway
Playaway is about half the size of a deck of cards and holds content up to 80 hours of play time.
---
Troubleshooting Your Playaway
Like any good storyteller, sometimes the Playaway just needs a moment to catch its breath. First, turn it on and off. If that doesn't solve the problem, remove and reinsert the battery, or insert a fresh battery. If the player still does not turn on, please contact Mackin at 800.245.9540 or customerservice@mackin.com.