Print Topic
Groups in MackinVIA™ are collections of digital resources that teachers or MackinVIA administrators can gather for students to access. MackinVIA administrators can either create Groups for teachers or give teachers Group Manager permissions to create Groups themselves.
---
Create a Group
First, log into your MackinVIA Administrator account (https://www.mackinvia.com/Admin) with your Mackin.com email address and password.
Choose Classroom > Groups (make sure you select the correct VIA if there is more than one account).

To create a list of titles in MackinVIA for a specific group of students, click the Create New Group button.

You will then see a pop-up window that will allow you to create a Group. You can name the Group whatever you prefer.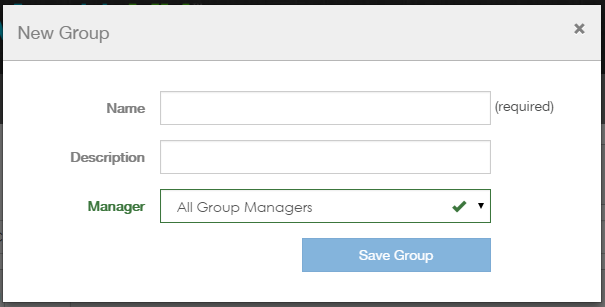 Then you need to add resources to the Group. (NOTE: Groups must contain at least one active resource to be accessible to patrons.) To do this click the Manage Resources button next to the Group's name.

NOTE: Once a Group has been created, it cannot be deleted. This is to preserve the accuracy of your usage statistics. However, you can remove a Group from the patron view by deactivating it.
---
Assign Permission to Create Groups
Read Adding Group Managers to learn how to adjust permissions to allow others to create and manage Groups.