Print Topic
MackinVIA Administrators and Group Managers can connect MackinVIA with a variety of educational tools using the Integrations page.
To view and manage integrations, log into your MackinVIA Administrator account (https://www.mackinvia.com/Admin) with your Mackin.com email address and password.
Go to Settings >Integrations. (Make sure to select the correct VIA if you have administrator rights to more than one account.)

Select the desired integration tab: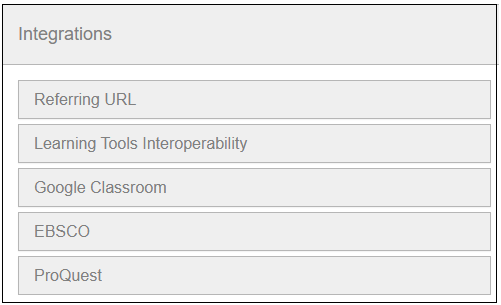 Integration options include:
Referring URL: Provide the referring URL to other vendors to authenticate digital content added to MackinVIA using the Add New Resource tool.
Learning Tools Interoperability (LTI): Use the LTI information to add MackinVIA to your learning management system (LMS).
Google Classroom: Enable the Share buttons to post MackinVIA resources, groups, assignments, and categories to Google Classroom.
EBSCO: Enter your EBSCO account information to enable Deep Discovery Search for EBSCO databases.