To search for excellent Mackin products, first log in your Mackin.com account with your username/password.
To skip to a subsection of this topic, choose from the links below.
Easy Search
Advanced Search
Search by ISBN
Filter Your Search Results
Request an Unfound Titles
---
Easy Search
The simplest way to find Mackin titles is by using Easy Search.
To perform an Easy Search, select one of the following options: Keyword, Title, Author, ISBN, Series Title, or Subject.
Then, enter your search term(s) and select the Magnifying Glass to complete the search. Mackin.com will then display your results. In this example, 1,627 titles were returned by searching the Keyword "tigers".

Please note: Performing an Easy Search using Series Title will display a list of matching series. To view the individual titles within the series, click on the series name.

---
Advanced Search
The Advanced Search provides greater flexibility and precision when searching for Mackin products.
To perform an Advanced Search, first click on Advanced Search.

Select the Format Type and fill in the parameters of your search.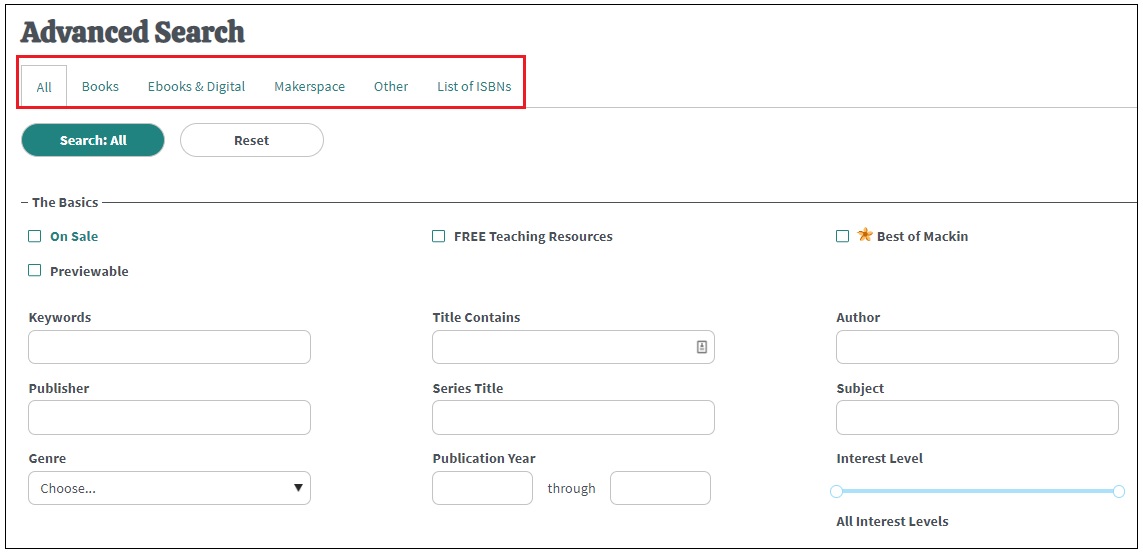 Then select Search to display the results. You can also clear the page by selecting Reset.

---
Search by ISBN
You can also enter a list of ISBNs to search for exact titles/editions of products on Mackin.com. Please note: up to 500 ISBNs can be searched at one time. Additionally, you may search for 13-digit and 10-digit ISBNs.
To Search by ISBN, go to Advanced Search and select the List of ISBNs tab.

Then copy/paste your list of ISBNs in the space provided. Then click Search: List of ISBNs to complete your search. Selecting Reset will clear the list of ISBNs.

---
Filter Your Search Results
After you have completed an Easy or Advanced Search , you can filter down the results to further limit the displayed results.
To Filter Your Search Results, select any of the parameters on the left side of the page. Your results can be filtered by New Releases, Product Type, Interest and Reading Levels, Dewey Classification, and more!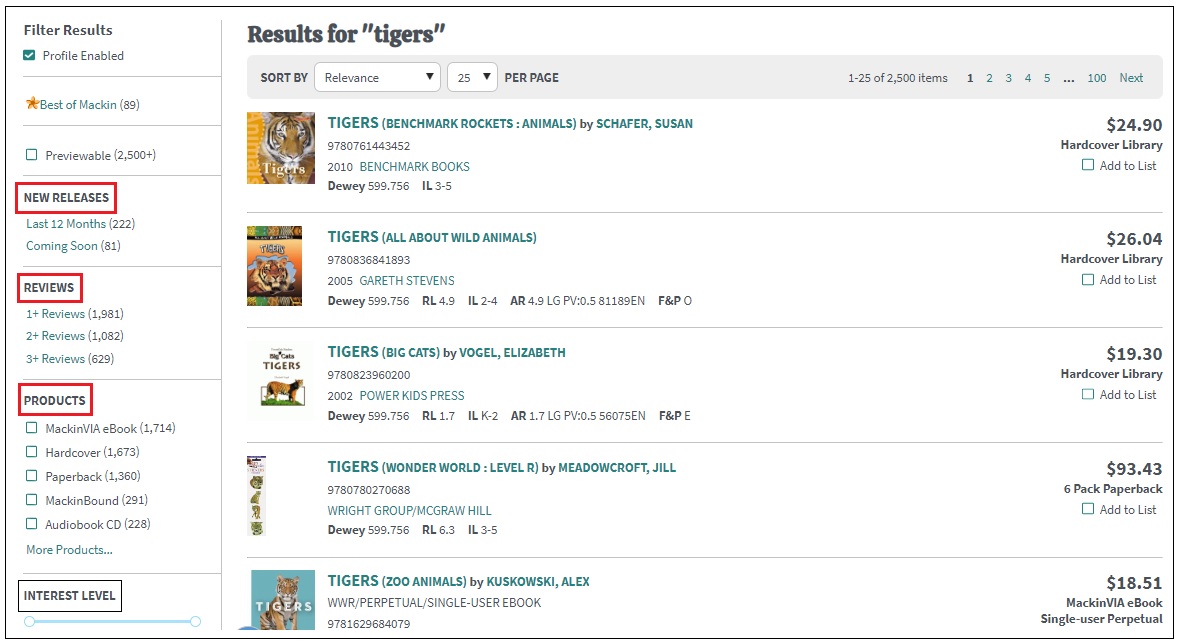 Clicking Clear All, the check box, or Remove will undo the previously selected filter.

---
Requesting an Unfound Titles
Occasionally, you may be unable to find a title you are looking for on the website. This does not mean that we cannot provide the title. If your search has returned no results, you may add an unfound title to your list by clicking the Add Unfound Title link and entering as much information you have about the title.

Then, complete the form. Select Add to submit the form. The title will then be added to your list.