Print Topic
Click a toggle below to learn more information about each term.
Book Formats
Library/Reinforced (L/R) and Trade Hardcover (T-HC) bindings are publisher hardcover books. The Library binding is the best available binding and has been specially reinforced to last longer. It is intended for high-volume library use and is made to withstand the rigors of repeated checkouts. A Trade Hardcover binding is a standard hardcover and is most often what you find in a local bookstore.
MackinBound (MB) titles are prebound paperbacks that are a cost-effective alternative to publisher hardcover books and carry a lifetime guarantee. Many paperback books can be converted to a hardcover binding called a MackinBound (commonly called a 'prebound paperback'). Our MackinBound process uses polyvinyl covers to provide protection, while using the original paperback cover or a professionally scanned version of the original artwork when bound to heavy binder boards. With both covers, the book is rebound; glued or sewn, depending on the thickness of the book and/or the density of the pages to meet or exceed all industry standards, resulting in a durable, hardcover book. All MackinBound books are fully guaranteed against defects as long as the purchased ISBNs remain in print. Download our printable brochure to learn more.
Paperbacks (PBK) are a publisher's soft cover binding. Mackin is able to Kapco these paperback titles for a charge of $1.79 per book. Kapco is a clear laminate that is applied to the entire cover to provide protection for the book. We can also provide a Colibri cover on any book for a charge of $1.29 per book. These charges are not reflected on website lists.
Flexibound (FLEXI) titles are sewn books wrapped in flexible, turned-edge covers that provide more durability, flexibility and the ability to lie flat. The cover itself is often comprised of a printed sheet turned over a thick cover stock, then film laminated for extra rub resistance. Cookbooks, catalogs, field and travel guides, and directories are popular flexi-cover applications. They are often bound this way to offer ease of use and transport, and offer a less expensive option than a hardback binding, while offering higher quality than a traditional paperback.
MASS titles are paperback titles that are produced by the publisher for the mass market. These books are generally smaller and contain lesser quality paper than the traditional paperback. This format is indicated by the MASS heading underneath the Title field on your list or search results.

TIE-IN titles are special editions of books or audiobooks that are connected to a movie, videogame, or other media.
Colibri Covers
These plastic covers are transparent, custom-fitted, durable, and provide a protective covering to books of any binding type. There is a $1.29 charge per book to apply these covers.
Columns
The SELECT COLUMNS link offers you a way to choose what information you want displayed in your list details and search results.

When you open the SELECT COLUMNS link, the Column Display window will appear. By selecting the boxes, you are choosing what columns are added to your list detail and search results. You can choose more than one box. Click Close to apply your selections.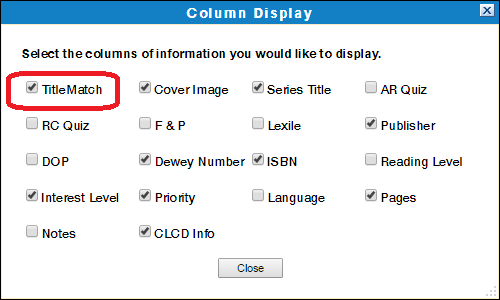 Some columns will always display, like Title, Author, Price, etc. Others are optional, such as TitleMatch, ISBN, and DOP (Date of Publication). You can choose different column combinations for both list and search results. Mackin.com will remember your column preferences.
Digital Resources
Single-user License: Only one person can use this title at a time.
Multi-user License: Simultaneous access is provided so more than one person at a single site can use this title at the same time.
Subscription Access: This digital resource is available for a limited period. At the end of the subscription period, you must renew your subscription to continue access. Subscription periods are noted for applicable titles and may be based on timeframe (such as one year) or number of checkouts (such as 26 checkouts).
Perpetual Access: You only need to purchase this digital resource once and will have perpetual access.
Worldwide Rights: Worldwide Rights (WWR) indicates the title is eligible for distribution outside of the United States in all foreign countries.
Please see below for a definition of other formats.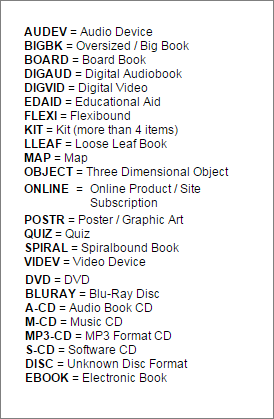 Dup Check
TitleMatch checks the titles on your Mackin lists against your library catalog to see if there are any duplicates. TitleMatch also determines if you have the same title included on more than one list, whether that list has been submitted or unsubmitted.
Dup Check searches for duplicates at a much more granular level. You can use Dup Check to find exact duplicates on the same list you are currently viewing. It will also search for the same titles with different formats on a list. If you have the following Frankenstein items on your list:

Dup Check, if activated, will list the following items as duplicates:

Though they are all Frankenstein titles, only two versions of Frankenstein are designated as having duplicates: the version published by Oneworld Classics and the version published by Abdo Publishing Company. Each is an example of the same versions in different formats. The Oneworld Classics' Frankenstein comes in both the MackinBound and Paperback formats, so that is considered an instance of duplicates. Separately, the Frankenstein: Single User put out by Abdo Publishing Company is another version of Frankenstein, which is offered in CD format. However, customers also have the option of buying the CD plus a hardbound copy. Therefore, Dup Check finds that the CD format is a duplicate of the CD plus BK (book) format.
Dup Check will find exact duplicates (e.g. two paperback copies of Frankenstein published by Oneworld Classics in 2008 on the same list). Additionally, Dup Check allows you to see if two or more items were included on the list that are essentially the same but with different bindings/formats. You may decide to deselect duplicates or keep them on your list.
NOTE: Upon request, Mackin will look for titles on your order that you may already have in your library. This is done by checking the ISBNs in your order against those from previous Mackin orders. If there is an exact match, that title will not be ordered and you will be notified. As you know, different publishers use different ISBNs, so we also check title and author for exact matches. If you would like to have us check your Mackin orders for duplication, call our Customer Service Department at 800.245.9540 or email customerservice@mackin.com.
---
Activating Dup Check
You must be viewing the list that you want Dup Check to scan for duplicates. On that List Detail page, go to Options > Dup Check.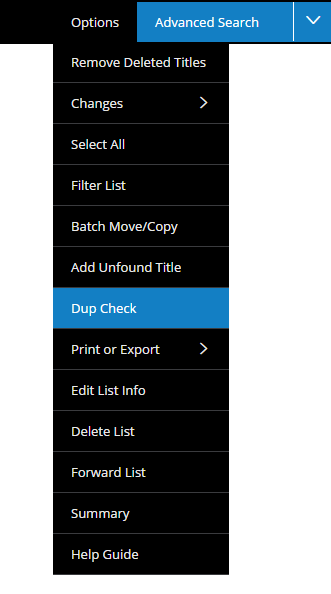 This will take you to the List Duplicates page. If there are any matches, uncheck the items you don't want. NOTE: You will need to delete the deselected items to remove them permanently from your list. See Add or Delete Titles for more information.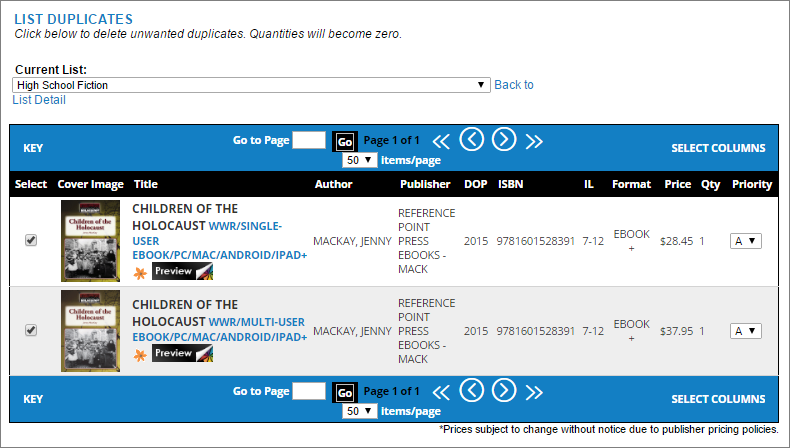 You may also choose to delete exact duplicates (for example, two paperback copies of Frankenstein published by the same publisher in the same year). Go to Options > Delete Exact Duplicates. Make sure you are on Dup Check's List Duplicates page to see this option on the dropdown Options menu. If you would like to add more than one copy of Frankenstein (published by the same publisher in the same year), instead of having two copies listed, you can change the quantity of Frankenstein to reflect how many copies you want. (See Adjust Quantity of Items)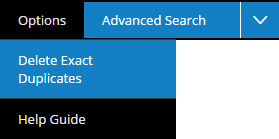 F&P (Fountas and Pinnell)
Irene Fountas and Gay Sue Pinnell, two experts in the area of reading, developed their own system for teaching reading that involves placing children in groups by reading level. The reading levels, which range from A to Z, are on a continuum and based on a number of factors, such as predictability and pattern of language, text structure and genre, vocabulary and context, and supportive illustrations.
Not all titles have F&P levels and titles are continually added. Mackin regularly receives and updates the website as new titles are added. F&P information is provided in the MARC record as requested and F&P reading labels can be provided upon request as well (contact customer service at 800.245.9540 or customerservice@mackin.com).
There are a variety of F&P lists available. To view these and more, log into Mackin.com and choose Title Lists > Search All.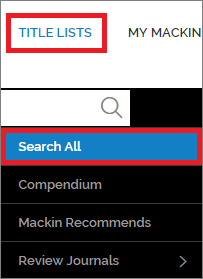 F&P lists can be found in the Leveled Reading Programs drop-down.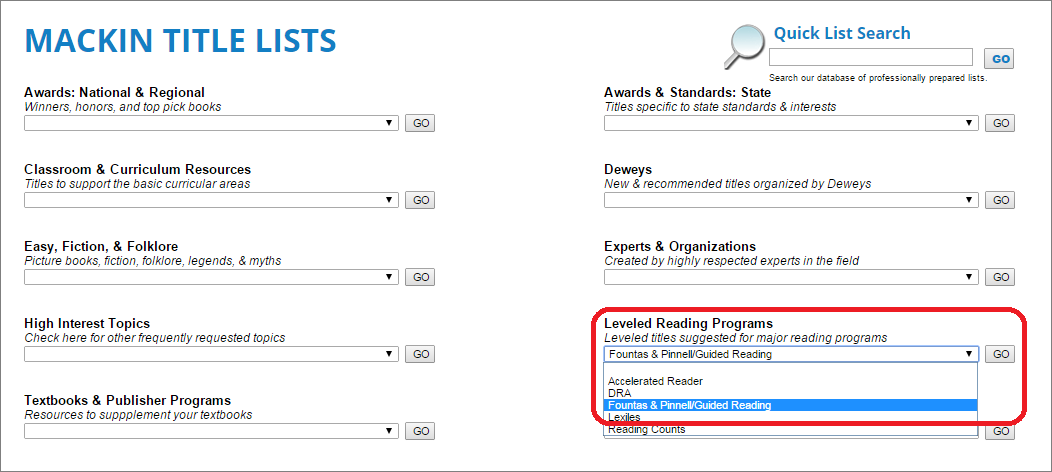 If you are interested in developing a leveled library for your school, please contact our classroom services project coordinators at classroomservices@mackin.com.
Flower
What does the flower icon (

) mean next to some titles on the website?
Compendium is a professionally compiled collection of the most recent, highly reviewed K-12 titles — created exclusively for Mackin customers and provided free of charge. All selections have been culled from the nation's acclaimed review sources. Rather than you reading thousands of reviews, our expert librarians do it for you. Titles included in our Compendium are denoted with a flower icon when you perform a search on Mackin.com.

On the Home page, go to Services > Programs > Compendium for more information.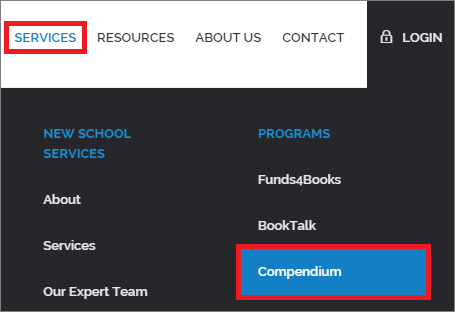 Alternately, after logging into Mackin.com, navigate to Title Lists > Compendium to view past issues of Compendium. Inside every issue you'll find titles for elementary, middle school, high school, nonprint, professional and reference. All titles have a full-color book image, in-depth summary, review sources, author and publisher, ISBN, available bindings/formats, subject heading and more.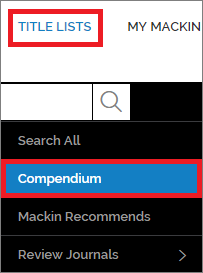 Info Symbol
What is the "i"

 icon?
Click on the info symbol to learn more about the topic listed next to the symbol. For instance, if you are searching Mackin's lists, you can click on the info symbol to read a description about each list.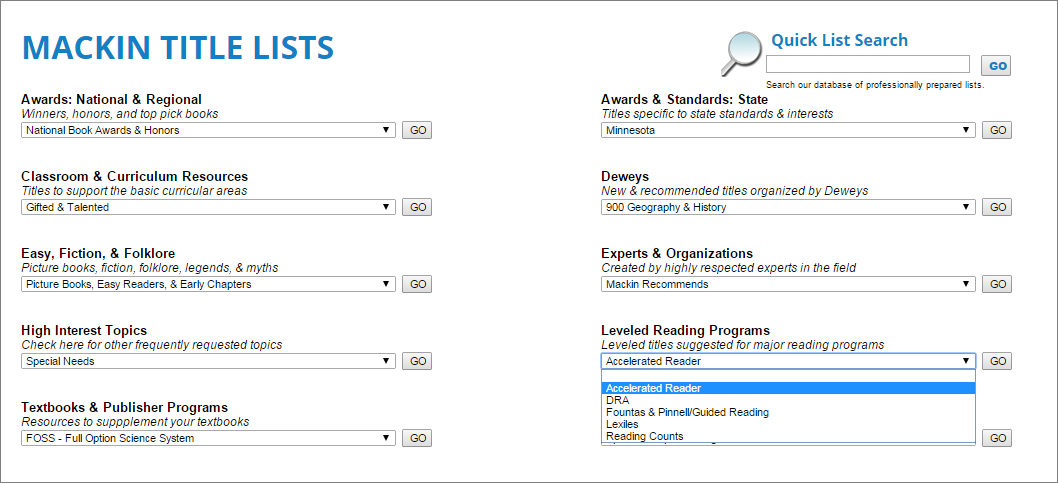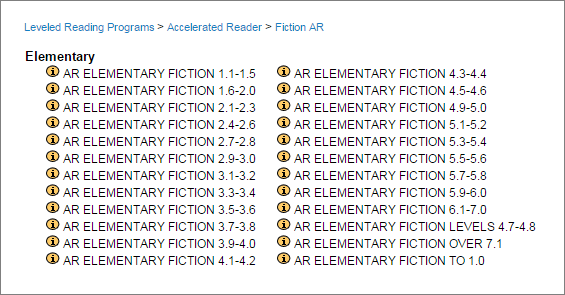 Kapco Covers
This is a clear laminate that is applied to the entire cover of a paperback book to provide added protection to the book. Mackin is able to add Kapco covers to paperback titles for a charge of $1.79 per book.
Key
The KEY link for the website is located at the top and bottom corners of both the search result and list detail pages. When the KEY link is clicked, a pop-up box will provide information regarding abbreviations, icons, formats, and TitleMatch.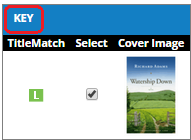 When viewing the key, click on the red arrows pointing downward to read further information about Formats, TitleMatch, and Digital resources.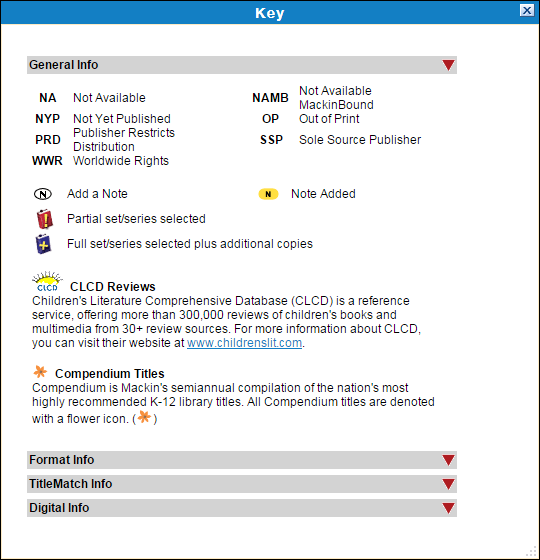 Lexile
Lexile refers to the measurement of an individual's reading ability or difficulty of a text, as determined by Metametrics, an educational measurement and research organization. A student gets their measure from a reading test or program, and uses it to match with leveled materials to find books with an appropriate level of difficulty to comprehend a text. The measurement is provided in numeric format and can range from below 200L for beginning readers to above 1700L for advanced readers. A person's Lexile range is from 100L below to 50L above his or her reported Lexile measure, and allows the reader to encounter some level of difficulty with the text, but not enough to get frustrated.
While Lexile is largely displayed in numeric format, there are Lexile codes for some titles that relate to its developmental appropriateness, reading difficulty, and common or intended usage. They are as follows: AD (Adult Directed), NC (Non-Conforming), HL (High-Low), IG (Illustrated Guide), GN (Graphic Novel), BR (Beginning Reader), & NP (Non-Prose). More detailed information can be found at http://lexile.com.
Lexile information can be displayed in your search results by selecting the Lexile column. See Display More Item Information for further details.
Not all titles have Lexile levels and titles are continually added by Metametrics. Mackin regularly receives and updates the website as new titles are added. Lexile information is provided in the MARC record as available, and Lexile reading labels can be provided upon request.
There are a variety of Lexile lists available. To view these and more, log into Mackin.com and choose Title Lists > Search All.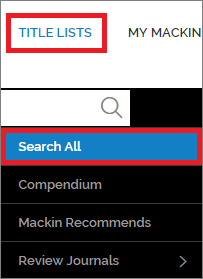 Lexile lists can be found in the Leveled Reading Programs drop-down.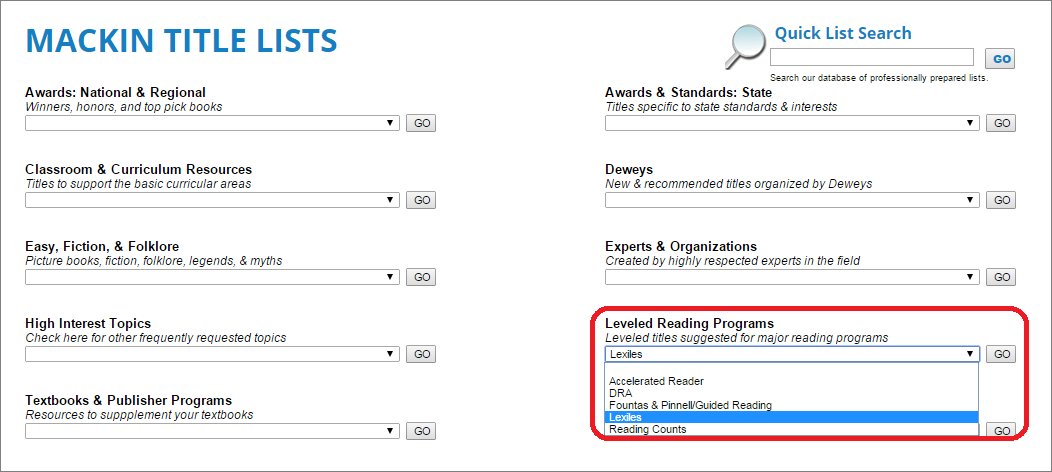 If you are interested in developing a leveled library for your school, please contact our classroom services project coordinators at classroomservices@mackin.com.
NYP
NYP titles are not yet published, though an expected publication date will be indicated. Keep in mind that this is an estimate, as publishers often change release dates before publication. You can add these titles to your list; however keep in mind that if your order is submitted, these titles may not be sent if their actual publication date does not fall within the order's shipment schedule.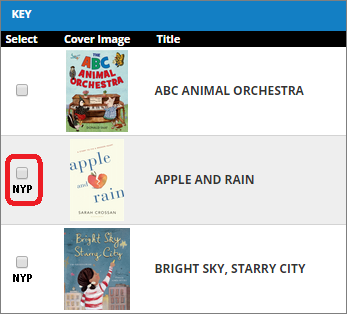 On Demand / Print On Demand
On-Demand or Print On Demand is a printing technology used by publishers to print copies of a book only after an order is received. This is an easy and cost-effective way to produce books one or two at a time or in small lots, rather than in larger print runs of several hundred or several thousand. This reduces the need for maintaining a large inventory, allows little or no waste of unsold product, and enables older titles to maintain availability to the consumer.

OP
Mackin includes OP (Out of Print) titles as a way to identify which items are out of print. In some instances, newer editions may be available. Note that out of print titles may be specific to a certain format–there may be in-print formats available.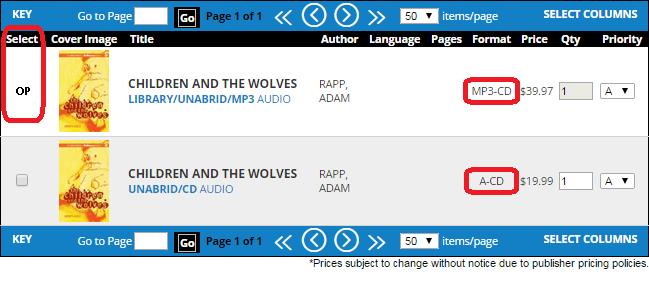 If you never want to see OP titles in your search results, you may alter your profile so that OP titles are not retrieved. See Customize Search Results for more information.
Although Mackin is unable to provide OP titles, our customers have had some success finding Out of Print titles at the following website:
Plus Symbol +
The + symbol indicates that the title is available in at least one other binding/format. (To read more about formats, see Format Info: Books and Format Info: Non-Books.)

After you click on the title to go to its Full Record, choose More Format Options to see what other formats are available.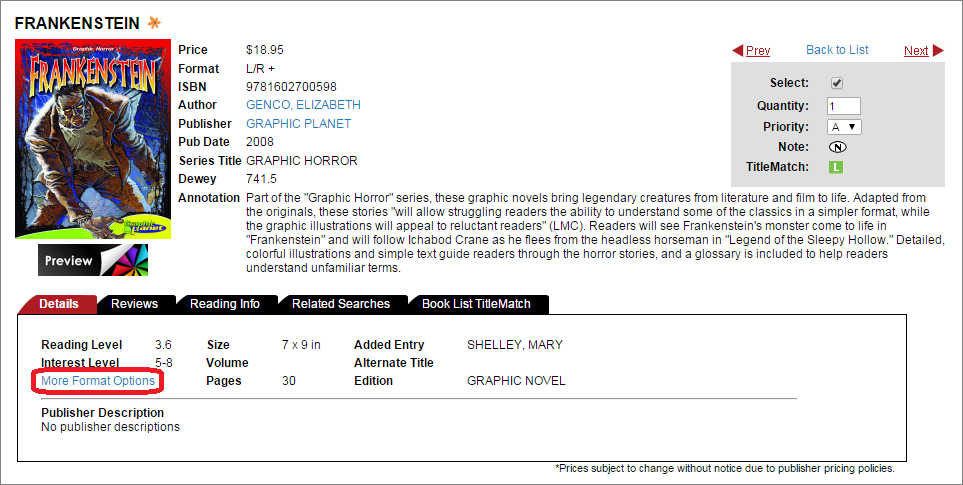 An Additional Formats window will appear. Select the format you want by putting a checkmark next to it. (NOTE: If you deselect a format that was once on your list, the title will remain highlighted on your list until you delete it permanently. Deselected titles will not appear on your order, nor will they print.) To learn more about deleting titles, read Add or Delete Titles.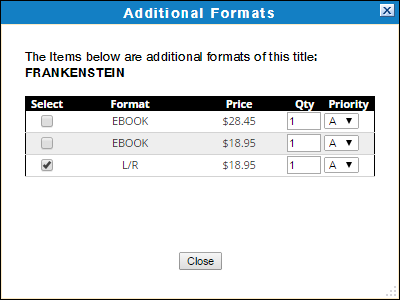 PPR
PPR refers to DVD/VHS materials with Public Performance Rights. This designation is used to indicate copyrighted entertainment movies that can legally be shown in schools without risking copyright infringement.
PRD
Some titles have PRD listed next to them. These are titles for which the Publisher Restricts Distribution and can only be ordered directly from the publisher. View a list of sole-source publishers.