Mackin offers the largest K-12 age-appropriate database in the world. We currently have the largest selection of leveled books for school-age children. We have pulled together the best-selling, award-winning titles, perfect for leveled reading use. Your leveled library will include a balanced array of high-interest fiction and nonfiction titles.
To learn more, navigate to Classroom > Leveled Libraries on the Home page.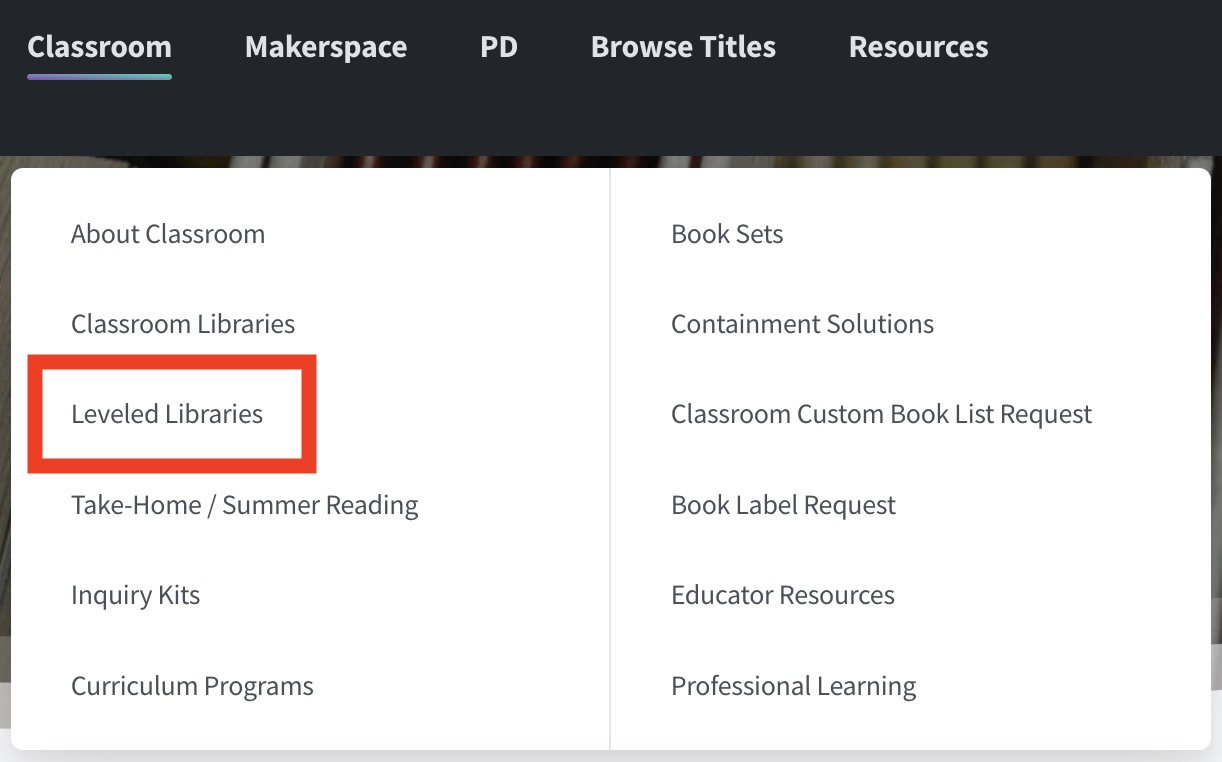 To skip to a subsection of this topic, choose from the links below.
Consulting for Leveled Libraries
Labels & Packaging
Purchase Leveled Library Selections
Reading Levels Offered
---
Consulting for Leveled Libraries
Call us! With years of experience helping schools across the world develop classroom and library collections, our education professionals are ready to provide ideas and solutions for your school's goals. Mackin's consultants have tools at their fingertips to make sure all of the right questions get asked and answered. We'll help you consider how many titles you might need in each reading level, brainstorm ideas for implementing a leveled library system into your space, work out the details of your school's plan for inventory tracking, and tell you about leveled libraries we've created for other schools around the country.
Feel free to call or email one of our Classroom Services specialists to get started. Call us at 800.245.9540 or email classroomservices@mackin.com.
---
Labels & Packaging
Mackin's innovative leveled library system helps keep your bookroom organized. Our design makes finding and shelving titles natural and easy while allowing for growth. Books are purchased in quantities of six per title. Each 6-pack is contained in a sturdy cardboard sleeve. The sleeve is labeled on the "spine" with a sleeve identifier label. Mackin will sort the sleeves in reading level order, according to your selected reading program type. If you'd like, Mackin can color-code your sleeves with colored label protectors, making it possible to make title selections at a glance. You can also add the capability to electronically track your individual books with Mackin's book barcodes.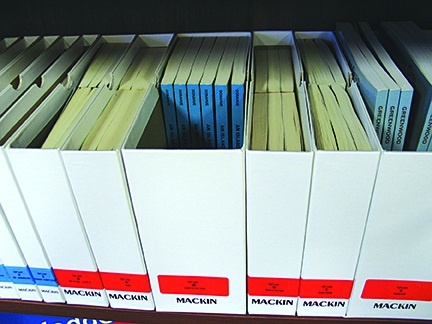 Mackin's prepared leveled library packages are available for an array of budgets and reading levels. Each package has been hand-selected by our education professionals to include:
An even balance of fiction and nonfiction paperback books
Best, newest and award-winning titles
Fountas & Pinnell leveled titles in 6-packs
High-interest and curriculum-correlated content
Package price includes classroom-friendly book labels, a cardboard sleeve to contain each 6-pack, customizable reading level and inventory-tracking labels on each sleeve, and full shipment sorting in F&P and title order.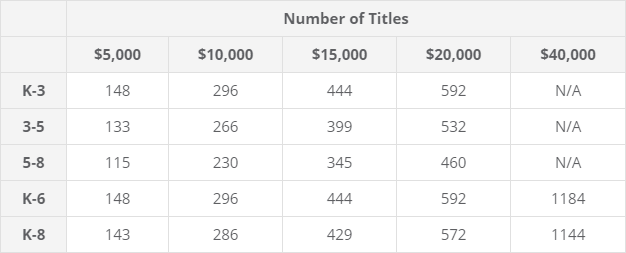 ---
Purchase Leveled Library Selections
Mackin has developed an innovative leveled library system that will make your bookroom development, implementation, and organization quick and easy. If you're short on time, Mackin's prepared leveled library packages are available for an array of budgets and reading levels. Each package has been hand-selected by our education professionals.
If you prefer to create your own leveled library, start by filling out the Leveled Library Planning Guide and deciding the program you'd like your books leveled and shelved by (Fountas & Pinnell, Lexile, etc.). In the planning guide, you can control the content of your leveled library by telling us how many titles you want in each reading level. You can allocate a percentage of your dollar amount to each level, or you can tell us how many titles you'd like in each level.
Once we receive your instructions on the form, we will prepare a price estimate which will outline the contents of your leveled library. Because we know it's important for you to fill your order's complete dollar amount, we will make appropriate substitutions in the event that any of your quoted titles become unavailable.
---
Reading Levels Offered
Our database contains leveling information for the following reading programs:
Fountas & Pinnell Guided Reading
Lexile
Accelerated Reading
Reading Counts
Mackin also has the capability to compute automated reading level conversions based on any conversion chart you would like to provide. We will use the reading level information we have in our database to make a conversion to your preferred reading level program. Please contact one of our Classroom Services specialists at classroomservices@mackin.com to discuss this type of custom service in more detail. Additional charges may apply for custom requests.