Print Topic
Set the Preferred Format Order to filter search results by binding/format before they are displayed. You can choose to NEVER DISPLAY certain formats and bindings that you'd never consider ordering, or prioritize the various bindings by assigning an order of preference to each binding/format you are interested in.
When logged into Mackin.com, select My Mackin > My Profile.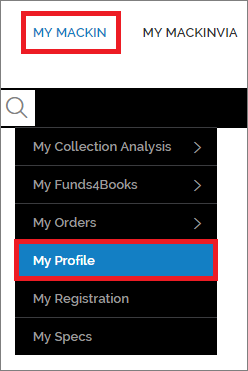 If the Preferred Format Order is clicked Off, all items from the database that match your query will be displayed with every search. Therefore, you may find that a certain title is available in several bindings and formats, such as library reinforced, paperback, or MP3.

If the Preferred Format Order is clicked On, your search results will display only the format types you specify. To take full advantage of this feature, assign a preference to the various formats listed for Books, Audios and Videos. You can assign an order of preference by assigning the format a number (1 being your first choice, and 9 being your last choice). If you prefer, you can assign a format type a category of Never Display or Always Display.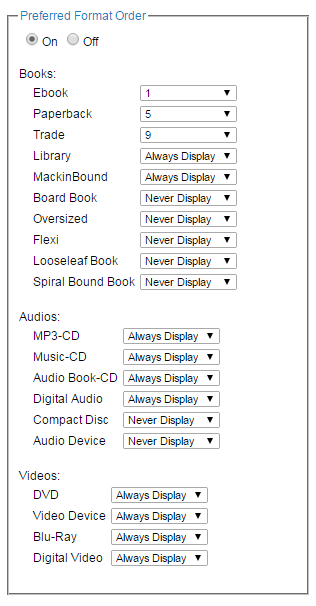 After assigning preference numbers to the format types and clicking Save Changes, Mackin.com will arrange the format types into numerical order as you selected. Please remember to click Save Changes so your new selections will be added to your profile.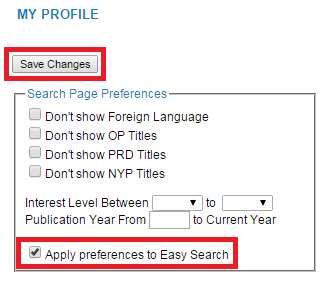 NOTE: Please be aware that the Search Page Preferences you select on the My Profile page may cause future searches to come back with "No Results" when in fact the title is in the Mackin database (e.g. if you have your interest level set at K-2, the Harry Potter series will not come up when you search). If you can't find the title you're looking for, please alter your Search Page Preferences to be less specific and see if the title is retrieved.