Mackin's team of professional librarians and teachers have curated a collection of descriptive, curricular tags. These tags are available as a collection development tool and can be utilized in conjunction with the TitleMatch feature to show which titles in your collection have these curriculum elements.
Please note: Our team is working diligently to tag resources within Mackin's database, so the list of tags and number of titles will continue to grow.
To explore our tags, go to Browse Titles > Title Lists > Tags from the main menu.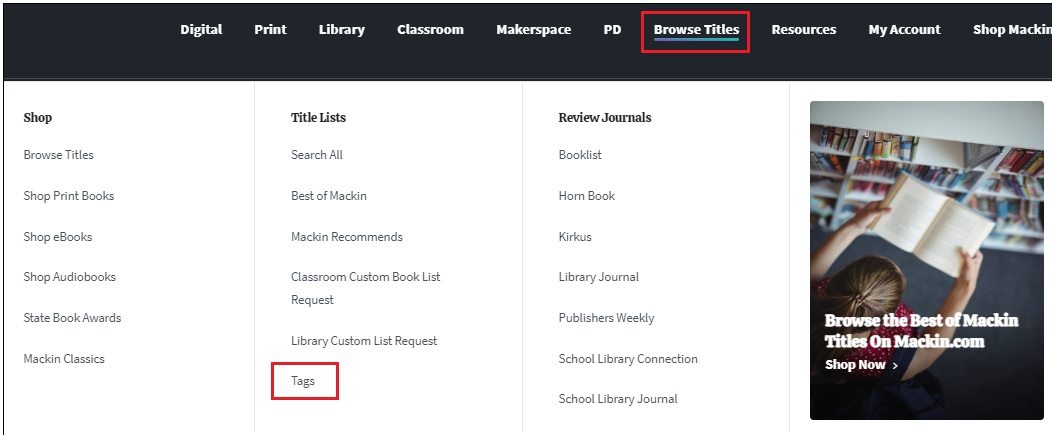 Tags are divided into several top-level categories with result counts listed next to each one. Click on More Tags… to view all tags in a category or filter by keyword.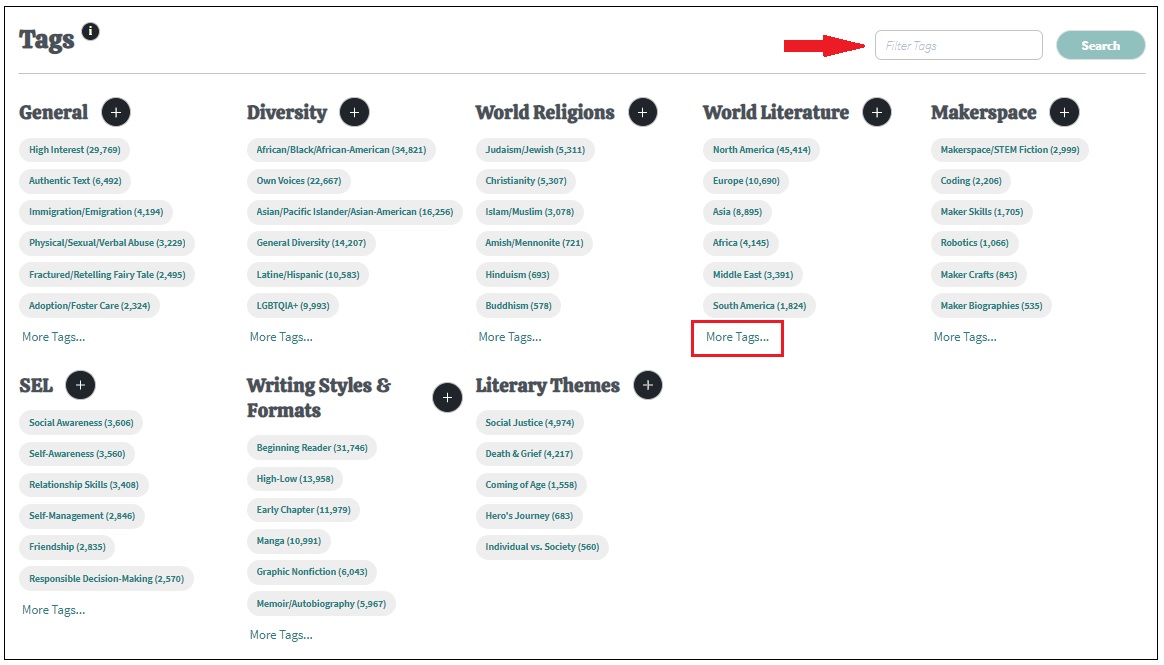 Categories:
General – Titles that have aspects of note which don't fit well into the other categories
Diversity – Titles that contain diverse characters or elements
World Religions – Titles that contain characters or elements pertaining to world religion
World Literature – Refers to where the content of a title takes place
Makerspace – Titles that represent Makerspace themes
SEL – Titles that reflect Social and Emotional Learning elements
Writing Styles & Formats – Highlights titles written in a specific style or format
Literary Themes – Titles that have a universal message or idea
Click on the + button next to a category, such as "Diversity", to conduct a search for titles with all related tags.

Click on an individual tag, such as "High-Low", to see just the titles with that specific tag.

You can also select any combinations, such as "SEL" or "High Interest", to find titles that fall into any of the selected categories or tags.
From the search results, you can filter by products, interest level, and more. The list of selected tags will appear under the filters.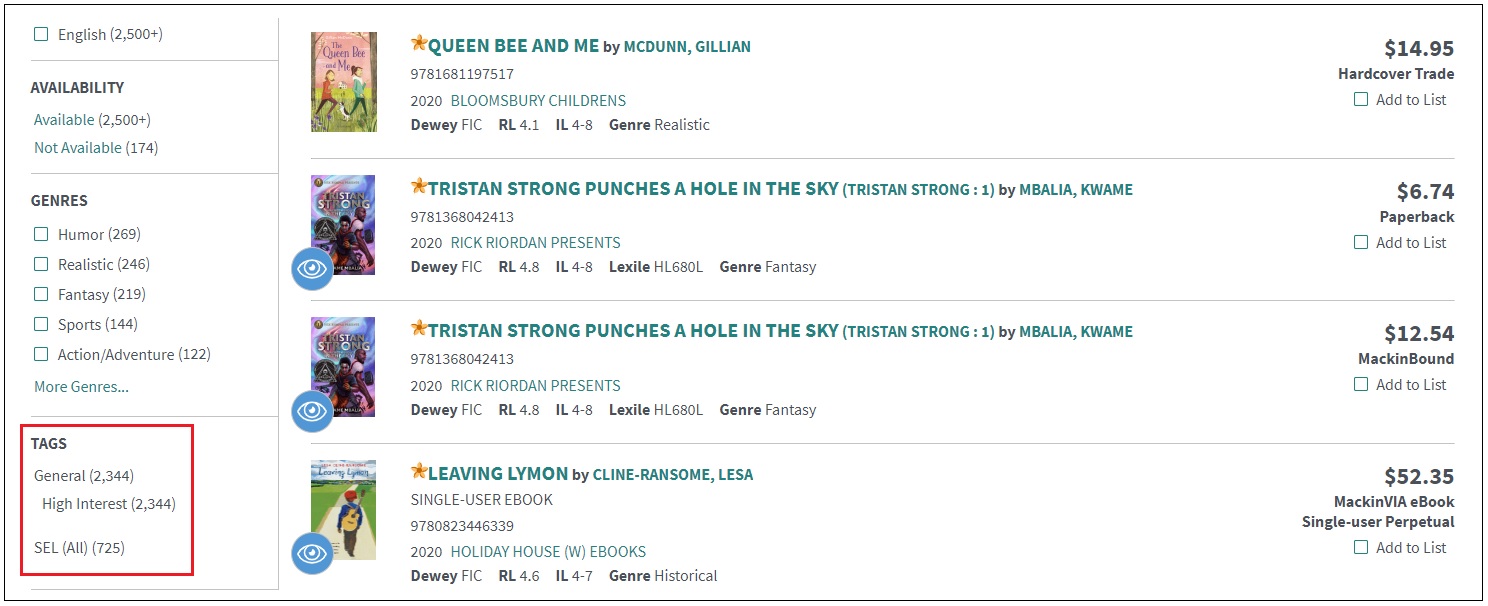 Click on a title to view all corresponding tags in the Similar Searches section. Additionally, you can click on tags from the full record view to execute a new search.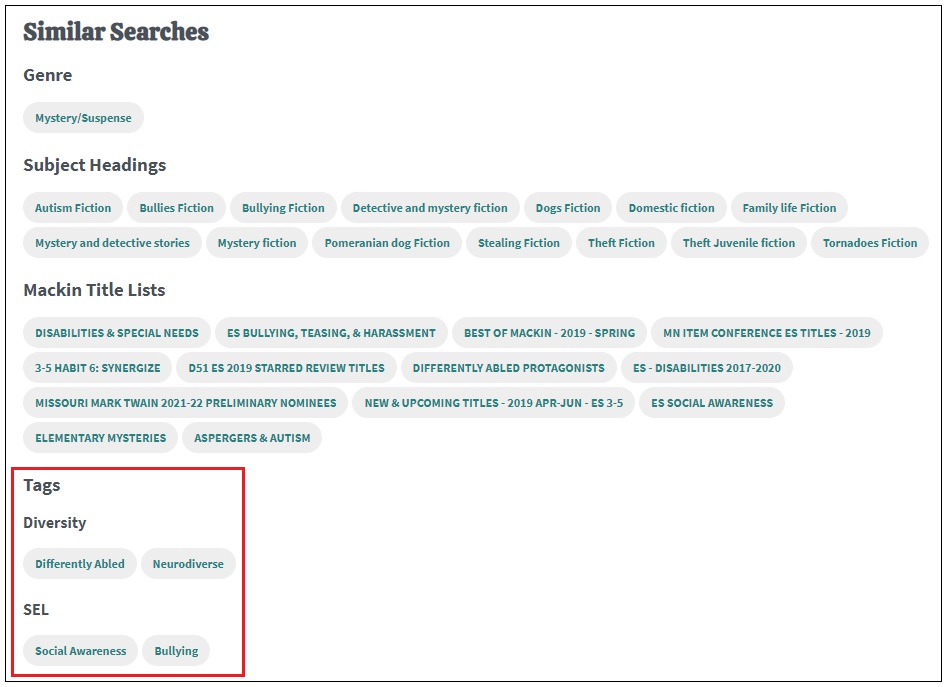 The List Summary feature also has a dedicated tab with tag information.