To skip to a subsection of this topic, choose from the links below.
Mackin Lists
Custom Lists
Best of Mackin
Mackin Recommends
Foreign Language & Bilingual Titles Availability
Publisher Showcase
Review Journals
---
Mackin Lists
Mackin's in-house librarians and development specialists have prepared thousands of library and classroom-related lists and organized them on Mackin.com. To browse these lists, log into Mackin.com and go to Browse Titles > Search All.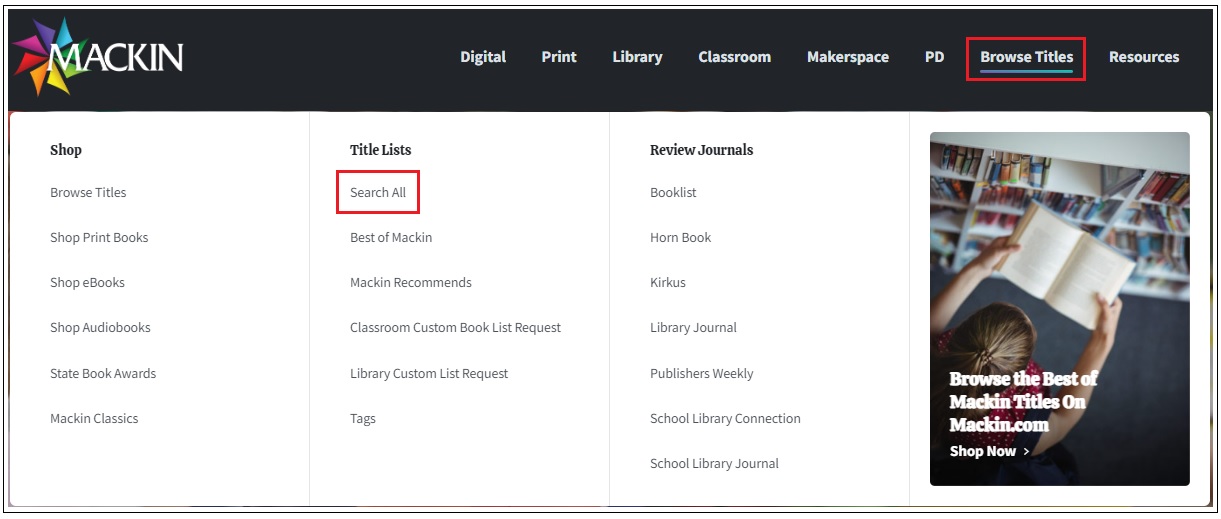 Click on any of the links in the sidebar to view topics related to a specific category and begin exploring the subtopics and corresponding lists. A breadcrumb menu at the top of each page will let you know where you are within the Mackin Title Lists database and enable you to return to a previous category.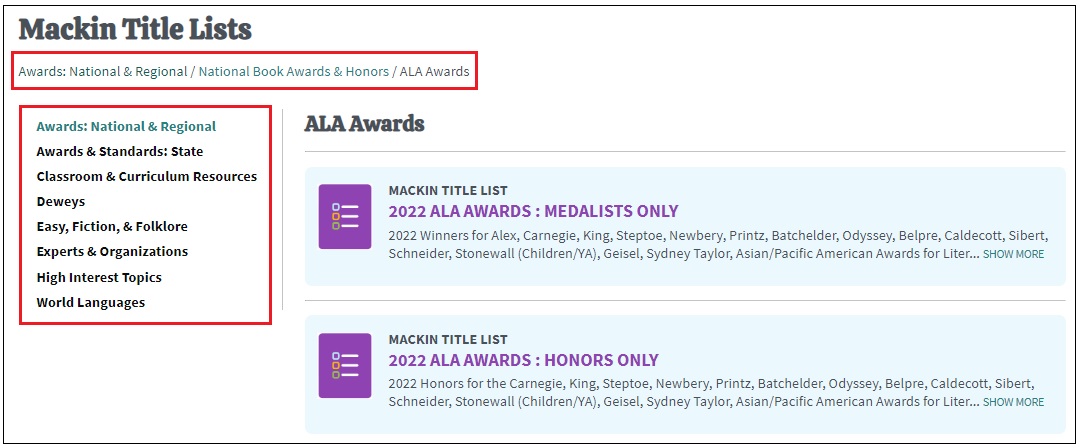 Search through our custom database by choosing Mackin Title Lists in the Search bar field dropdown menu and entering keyword(s).


Clicking on a list will bring up the listing of individual titles. Results can be further refined using the dynamic filters on the sidebar.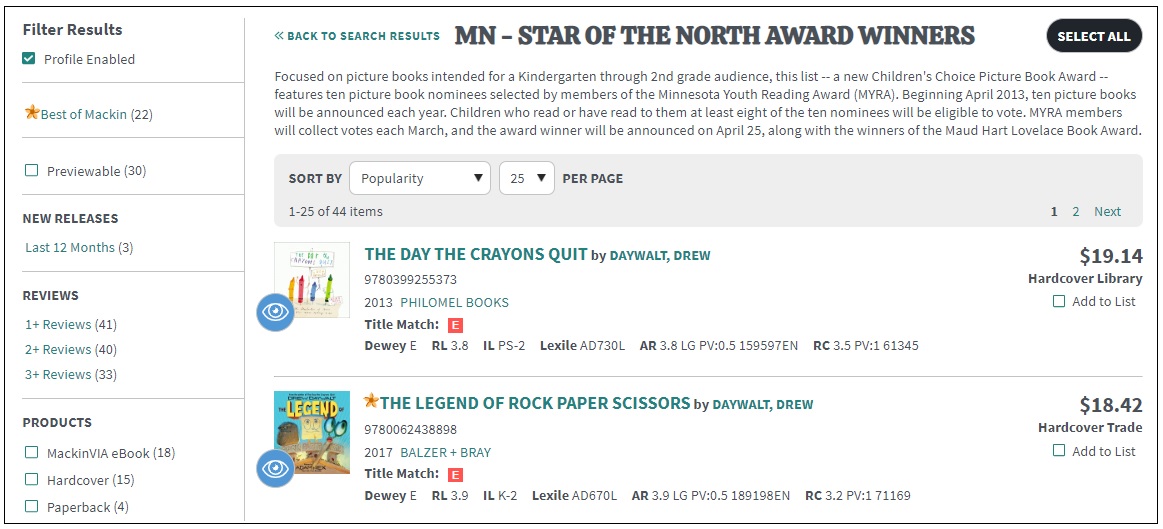 Change Lists
To copy all the titles of a prepared list to one of your lists, make sure you select the list you wish to transfer the titles to by clicking on your Shopping Cart and selecting Change List. Select a List from the menu in the pop-up window.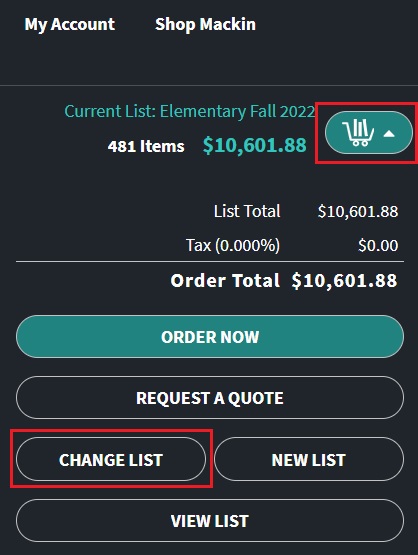 ---
Custom Lists
Upon request, our master librarians will provide custom lists to meet your exact needs, complete with review sources, reading levels, and annotations. Working with more than 18,000 publishers allows us to find the best and most appropriate titles for your unique collection, including digital resources.
There are three ways to navigate to our Custom List Request Forms after logging into Mackin.com.
1.  Go to Browse Titles > Classroom Custom Book List Request or Browse Titles > Library Custom List Request.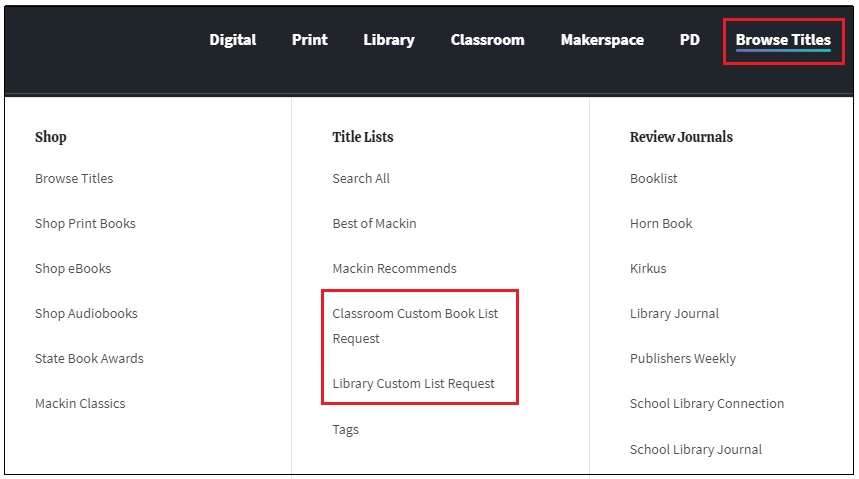 2.  Go to Library > Collection Management and click on the Request a Custom List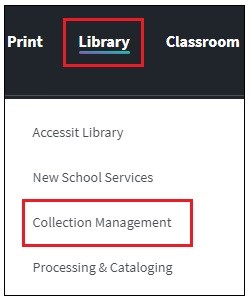 3. Go to Library > Library Custom List Request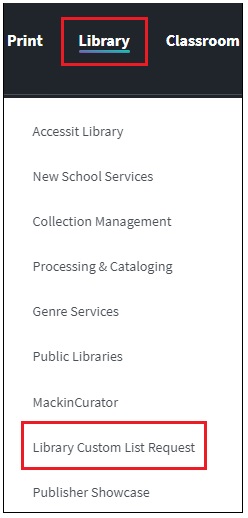 Once you're in the Custom List Request Form, read through and fill out the five sections. When the form is complete, click the Submit button at the bottom of the last page.

4. Go to Classroom > Classroom Custom Book List Request.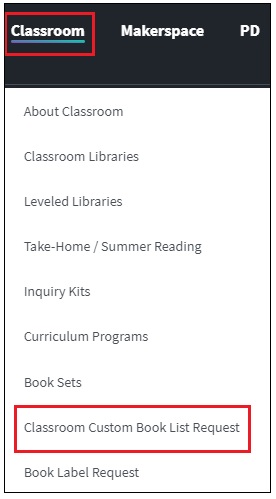 Once you're in the Classroom Custom Book List Request Form, read through and fill out the form. When the form is complete, click the Submit Form button at the bottom of the page.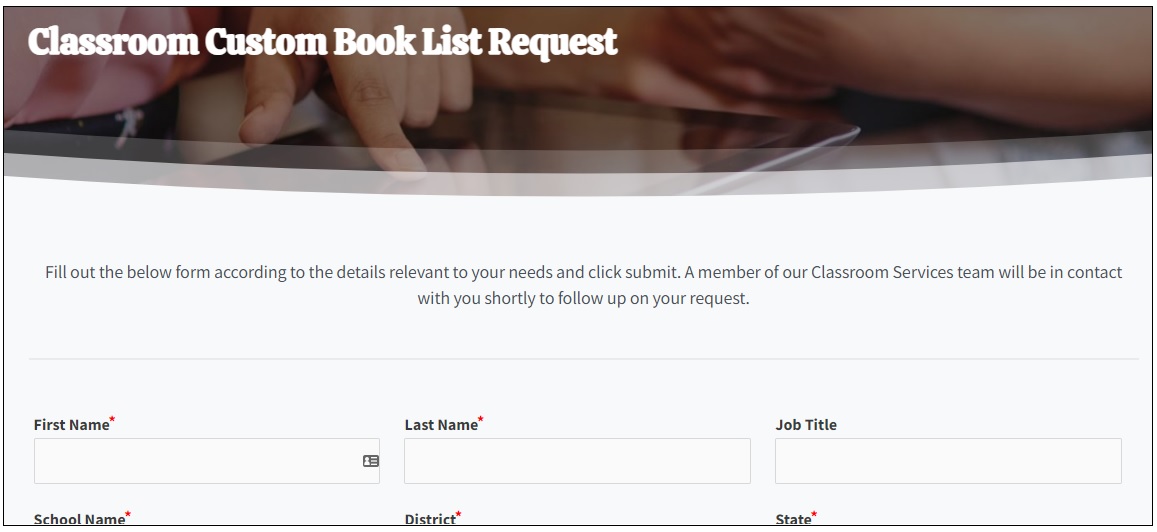 ---
Best of Mackin
Best of Mackin is a professionally compiled collection of the "Best of the Best" PK-12 age-appropriate, starred reviewed titles. All selections have been culled from the highly acclaimed review sources listed below and placed in one convenient location for you to make the very best selections for your libraries and students. No need to comb through all the journals, Mackin's master-degreed professional collection development librarians have done the work for you.
On the Home page, go to Browse Titles > Best of Mackin for more information.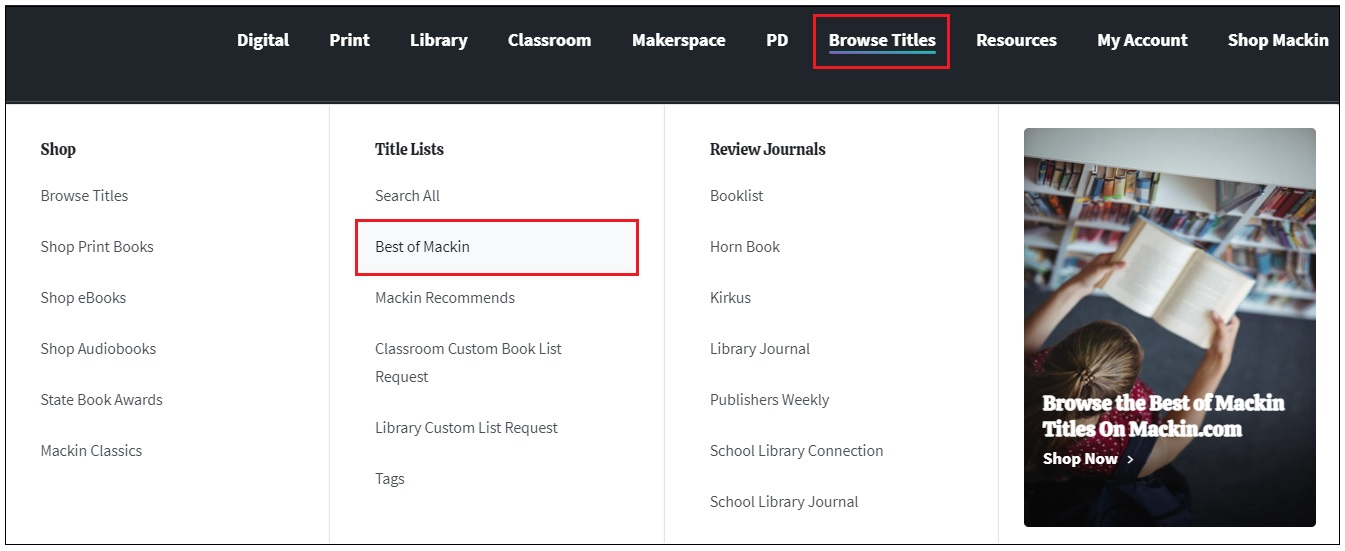 ---
Mackin Recommends
Our professional Collection Development team of librarians is proud to introduce this customer-first service. In addition to the titles with starred reviews on our Best of Mackin lists, these new books are also highly recommended for use in your library or classroom.  Only a small percentage of books published each year are reviewed in the major book review journals, and only a small percentage of those titles receive stars. Our Mackin librarians research beyond the stars, reading advance reader's copies and reviews to find more high-quality fiction and nonfiction for all grade levels.
Our selection criteria include how popular a title will be with students, if the title can be used in the curriculum, what other reviewers are saying about the book, and if the writing and format are of the highest quality.  For additional information, please contact our Collection Development department at 800.245.9540 or email caps@mackin.com.
Disclaimer on Mackin Lists:  Mackin's recommended book lists are prepared by our in-house librarians and educators based on customer parameters, awards, and review sources. Please understand that all titles on our lists are considerations and are not guaranteed to fulfill the needs of every school, classroom, or library. We acknowledge that you will choose the most appropriate titles for your students. Mackin should not serve as the final authority for purchasing decisions.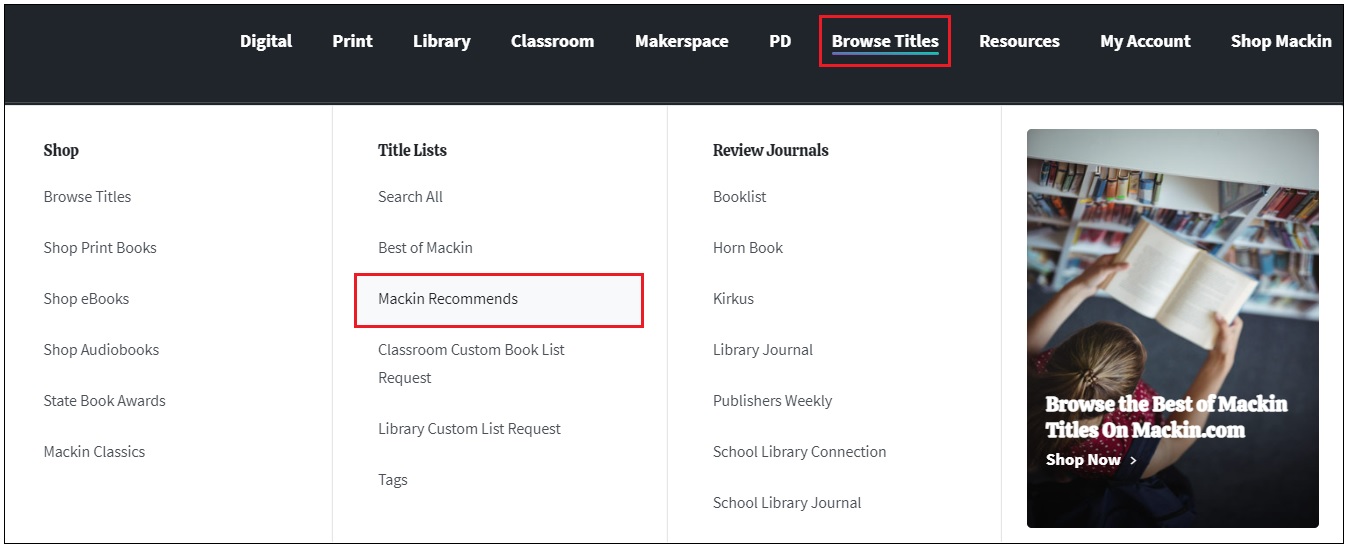 ---
Foreign Language & Bilingual Titles Availability
Mackin currently offers titles in over 100 languages, including Spanish, Russian, Chinese, French and Arabic. Our Spanish and Spanish/English language database is particularly expansive. If you need world language titles, our development specialists can compose a custom title list specific to your school's needs.
---
Publisher Showcase
Publisher Showcase is a quick and easy way for you to see the newest and most popular series and titles from some of your favorite publishers. It's all part of Mackin.com, so you can create and submit an order within minutes.
You may explore lists of series and titles on the Home page by selecting Library > Publisher Showcase from the main menu. Check back often because new publishers, titles and series are continually added!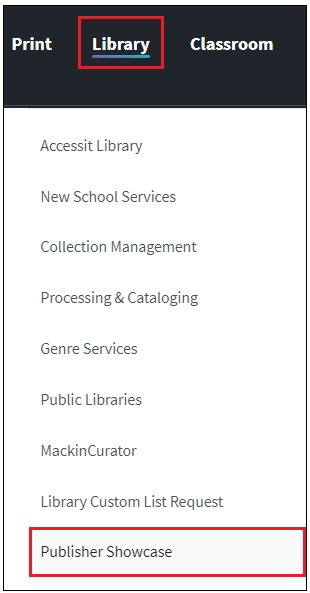 ---
Review Journals
Now you can explore lists of titles reviewed in BookList, Horn Book, Kirkus, Library Journal, Publishers Weekly, School Library Connection, School Library Journal, and VOYA. Read full reviews, refine your list any way you like, and quickly place an order. We hope you enjoy this free service.
Log into Mackin.com, navigate to Browse Titles > Review Journals and select which publication you would like to read.