Print Topic
Lists created on Mackin.com can only be forwarded to individuals who have a registered Mackin.com account. (Lists exported into Microsoft Word or Excel, however, can be emailed to anyone.) The person you forward your list to will receive an email stating that a list has been forwarded to them–the email address will be the same email address that person used to register a Mackin.com account.
You may forward a list one of two ways. Log into Mackin.com, go to My Lists > See All Lists and choose Forward underneath the list you want to send.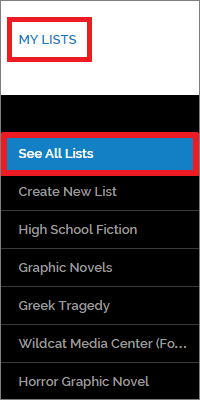 Alternatively, when you are viewing an individual list, you can choose Options from the dropdown menu and select Forward List.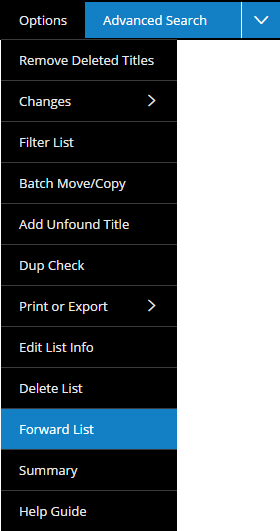 After the Forward List form opens, type in the email address of the person you're sending the list to. You will have the option to add a note about the list (which you can elect to be added to the email message itself). You may also decide to send a confirmation email to yourself. Click Send List when you're done or Return to My Lists if you would like to cancel.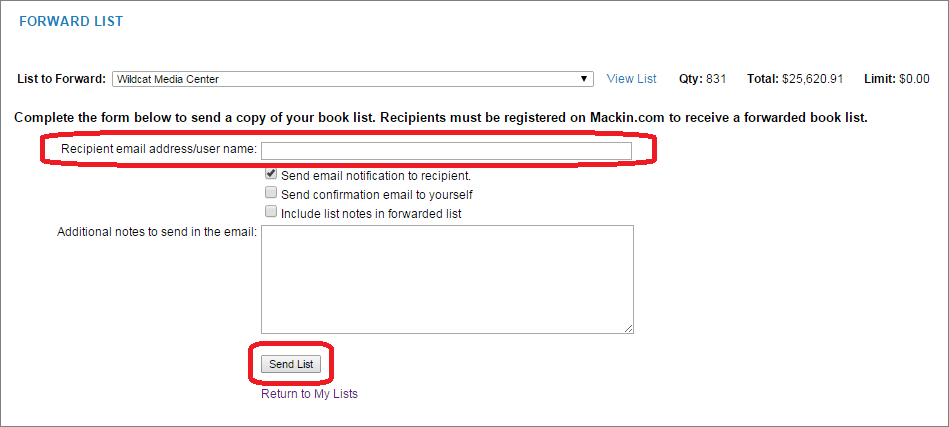 You will receive a confirmation message on that page if your list was successfully forwarded.

The forwarded list will appear on the recipient's My Lists page with "Forwarded" in parenthesis after the list's name.